If you are a regular reader of the Wanted Dead or Online Blog, you may have noticed that I've added a QR Code to the top right portion of the page (it's the white square with the bunch of black dots on it…)
You may have seen these White boxes with dots popping up all over the place… They're on movie posters, in magazines, in the newspaper… Why is that?
If you are not familiar with QR Codes, they are similar to bar codes but they are meant to be scanned via a photo from a mobile device (to read QR Codes, you'll need to download and install a QR code reader on your mobile device – if you don't yet have one, you can get it at this link.)
By taking a photo of the code, a mobile device running a QR code reader receives automatic instructions from the design printed on the code to execute an action, much like scanning a bar code in a supermarket checkout aisle tells the cash register what is the item being scanned.
For example, taking a snapshot of the QR code on the top right of this page will instruct your mobile device visit the George Levy Twitter account (go ahead, aim and shoot 🙂 )
At this moment, QR codes are just starting to gain traction in the USA but they can be found all over in Japan where they were originally invented back in 1994, and where they have already gained quite a large mass acceptance.
I'm a big believer in mobile and I am currently working on several offline marketing campaigns which incorporate QR codes as a way of "breaking the offline/online frontier" to take people from a flat printed ad onto an interactive multimedia video campaign via their mobile devices.
By adding a simple code, a flat, inanimate printed marketing campaign can more deeply engage the interested viewer and establish a more effective communication.
In a similar vein, Microsoft also has a similar technology called Microsoft Tag which 
accomplishes a similar purpose, although it has not gained as much acceptance as the traditional QR. Microsoft's Tags have a different, multicolored pattern as seen on the image to the right.
With more smartphones being sold than PCs (smartphone manufacturers shipped over 100 million smartphones in the Q4 2010, while PC manufacturers shipped "just" 92 million units in the same period according to IDC.) – QR codes are an important vehicle to engage users.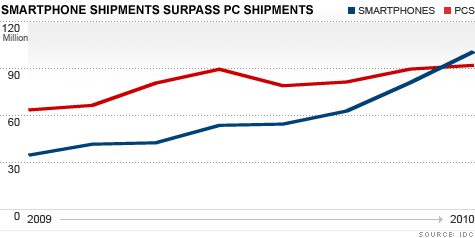 Note…
QR Codes are not perfect.
For example, here in New York City, many new release movie posters are including QR codes which I assume will take interested individuals to a multimedia presentation of some sort via their smartphone.
Unfortunately, there is no cellular reception in most subway stations (Very frustrating… There's been some great movies which I would've loved to see what was behind the code.)
Additionally, QR Code readers can be finicky and depending on the lighting and angle which you take the snapshot of the code, sometimes the reader will not pick up the instructions which can get annoying.
Still, these white and black codes are definitely a positive step towards further integrating the offline and online world, and for that I say they totally ROCK.
What's your take? Have you read a QR code with your smartphone? Do you like this technology?
Go ahead, I invite you take a snapshot of the code on the top of this blog and follow me on Twitter.